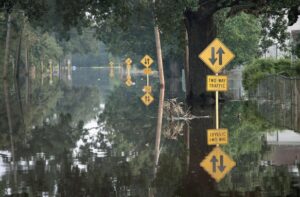 The last thing anyone expected from this hurricane season was the widespread tragedy and destruction unleashed upon Texas by Hurricane Harvey. Hundreds of thousands of Texas residents have been left to deal with the aftermath of the storm, including flooded homes and loss of power. When disaster strikes, keep your ducks in a row by knowing exactly what to do after your home floods and to take the first steps toward returning to normalcy.
Protect Yourself and Make a Claim
The destructive and frighteningly dangerous power of flood waters are often underestimated. If you've been evacuated from your home and are just now returning to it, take great care. Who knows what sort of damage was inflicted on your home while you were gone. Inspect the home from the outside before stepping foot inside. If the stability of your home and weight-bearing components seem to have been compromised, stay away! It may fall at any moment.
If you make it inside, it's time to extensively document the damage and flooding. Take photos and bring witnesses. These will ensure your insurance company will cover you appropriately. File your insurance claim as soon as possible. If you drain your home and treat it for mold first, there's no guarantee you'll be reimbursed for those services or that your insurance company will understand the extent to which your home had been damaged.
Remove large debris items before draining to make sure no one gets hurt during clean-up.
Draining and Assessing the Damage
Clean-up may now commence! Drain all the water from your home soon after you file your claim to prevent the spread of
debris and mold in your home. Drying your home and everything in it can take an exceedingly long time, so it's best to start the process sooner rather than later. Once the professional water damage remediation technicians have finished removing the water from your home, they will be able to better assess the extent of your home's damages. Are the wooden joists rotting? Has mold taken root? Have pests started infesting the house? Once you've answered these questions, you'll have a better idea of the cost of home repairs and how long you'll be out of your home.
Be sure to update your insurance claim with the results of the professional damage assessment so you receive adequate compensation to repair the damage.
Making Repairs
Perhaps the most important step of the process is deciding on a trustworthy and compassionate contractor to help you repair your home. Don't be fooled by out-of-state storm chasers. Often, these people aren't familiar with the community and are only interested in making a quick buck. They're known for gouging prices to take advantage of victims who only want to get back into their homes. Then they leave the state without a word or a way to reach them if the repairs are shoddy. Employ a local, reputable contractor to receive a fair price and quality workmanship and service before, during and after a disaster.
We're in This Together
Too often, victims of disasters feel they're alone when they need help to rebuild their lives. As a Houston-based company with employees, owners, and friends in the Houston area, we want you to know we're in this together.
After a home flood, furniture may be unsalvageable due to water damage. However, we at Living Designs Furniture are happy to help you refurnish your home better than ever with our custom furniture services. We know money can be tight when you're paying for recovery. That's why we're offering 12-month 0% financing on our showroom pieces and special discounts on our select sofa and loveseat designs. To learn more about how we've committed to help Houston's Harvey victims rebuild their lives, contact us online or call (713) 921-5098. We're Houston strong.
Photo Credits: Couple on the bridge, Spencer Platt/Getty; Flooded Street signs Scott Olson/Getty; and flooded home, CBSNews.